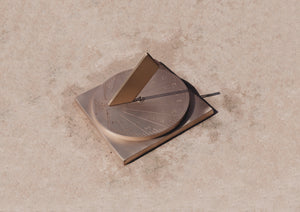 Our story
Spot-on Sundials was founded by Piers Nicholson in 2001.
​Designing sundials may have started as a hobby, but my vision was clear from the start; to solve one major issue: 
​"Why are garden sundials so awful, and what on earth can be done to improve them?
​Many sundials are designed to be nothing more than a garden ornament for people who are not really interested in whether it works! Although some designs may be aesthetically pleasing, their inability to tell the time correctly and accurately has taken sundials out of the spotlight. I came up with an idea of a split gnomon, which would remove the difficulties in setting up a horizontal sundial and could also have a high degree of accuracy. The Spot-on Sundial was born; a scientifically accurate sundial displaying True Time that can be read to within a minute or two." 
- Piers Nicholson
If you would like to read more about the designer, click here.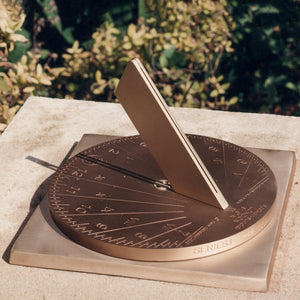 Our sundial
The original brass Spot-on Sundial was designed by Piers Nicholson and introduced to the market in 2001. Since then, customers all over the world have bought them as presents for big occasions or simply for their own pleasure.
The main features of the Spot-on Sundial are the modern design, the scientific accuracy engineered to provide accurate sun time given the latitude where the dial is installed, and the divided gnomon constructed of two parallel plates with a small air gap. This permits a ray of sunshine to pass through for a few minutes at solar noon. 
Our sundials can be engraved with a personalised message to give a lasting gift for that special occasion.
we care about the planet
We are proud to partner with Ecologi as part of our carbon reduction strategy. Every month, our subscription and sales contributions fund projects that remove more greenhouse gasses than our own carbon footprint puts in. Plus, for every sundial we sell, ten trees are planted in a reforestation project that's happening right now. Together, we can make an impact; one sundial, one tree at a time.

Expert guidance
We know that choosing the correct sundial can seem like quite a complex task, that's why we've put together a range of helpful articles in order to guide you through the process.
For more information, please visit our useful links menu.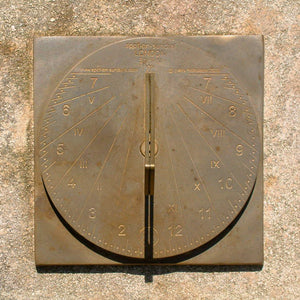 Spot-on Sundials are hand cast out of solid brass, and designed to be used outdoors for years to come. Over time the brass will turn into a natural brown finish.
Our sundials weather naturally; the shine of the brass will be replaced by the matt surface of an oxide layer, which will protect the metal of the sundial. This will also give greater contrast to show the shadow of the gnomon, and the line of light at solar noon.